Shotcrete
High Pressure Spraying Application of Concrete
Shotcrete is a high pressure spraying application of concrete used to apply concrete to irregular shaped & hard to reach locations.
Dwyer's powerful mobile shotcrete systems make it possible to complete large projects quickly and economically.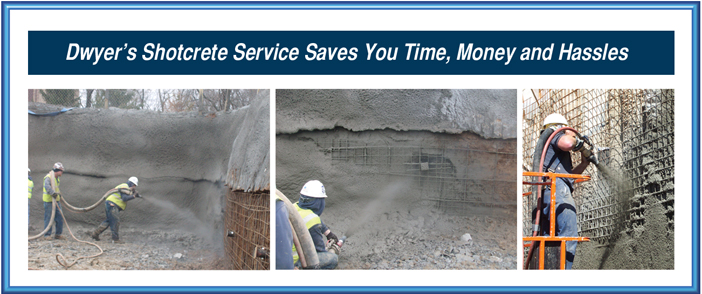 Nobody does it better.
Dwyer's Shotcrete Service Can Repair Any Concrete Surface – Vertical, Sloped or Otherwise
Deteriorated and damaged concrete surfaces like the loading dock pictured here can be economically repaired using Dwyer's high pressure shotcrete technology.
• Loading Docks
• Wall Reinforcing
• Bridges & Overpasses
• Slope Stabilization
• Aqueducts & Tunnels
• Manholes & Sewers
• Stacks, Tanks & Hoppers
• Furnaces & Heat Ducts
Dwyer's Shotcrete Service Saves You Time, Money and Hassles
Time – Dwyer's shotcrete professionals can prep and complete even a large job in a matter of a few days.
Money – You can save significant amounts of money by using Dwyer's shotcrete service to repair damaged concrete rather than replacing it.
No Hassles – From a written estimate to the completed project, you can trust the shotcrete professionals at Dwyer to meet or exceed your expectations – we guarantee it!