Commercial Services
The Engineer's Choice For Geotechnical Structural Specialty Services
Dwyer can assist with all aspects of engineering design, certification, drawings and specifications.
Dwyer can provide Design Build Services for projects of any size.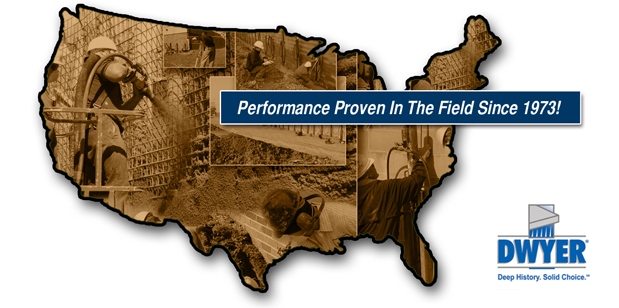 Time Tested & Performance Proven in the Field for over 35 Years!
The Dwyer Company, Inc. is a geotechnical and structural specialty service company. Dwyer offers design/build solutions for the deep foundation, earth retention, shoring and underpinning industry. Dwyer's team of professionals are ready to assist you on projects of any size and commit your project wil be finished on time and in budget.
Dwyer's commitment to quality and safety is our #1 priority. Dwyer specializes in Micropiles, Helical Piles, Rock Anchors, Push Piers, Soil nails, Slabjacking, Underpinning, Shotcrete and earth retention systems. The Dwyer Company has been time tested and proven performance in the field since 1973.
Deep Foundation
Micropiles
Helical Piles
Steel Pier
Rock Anchors
Drilled Piers
Hollowbar Piles
Underpinning & Structural Repair
Foundation Repair
Micropiles
Helical Piles
Soil Stabilization
Settlement Control
Structural Support
Push Pier
Grouted Jack Piles
Earth Retention & Shoring
Soil Nails
Rock Anchors
Helical Anchors
Shotcrete
Excavation Shoring
Tie Backs
Additional Services
Slab Jacking
Soil Stabilization
Sinkhole Grouting
Concrete Lifting